K-STAR Electric Mechanical Heaters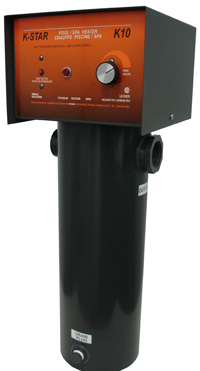 (Recommended for residential Above-Ground Pools, Small Inground Pools and small residential Spas)

The K-Star Pool Heater is for comfort and heat when you need it. Swimming any time is more fun when the water temperature is right. Your whole family will get more enjoyment and more use of your pool and spa with a K-STAR Electric Mechanical Heater. Whether you want to extend your swimming season from earlier spring into the fall, want more comfortable pool temperatures all the time, or have your spa ready even in frigid winter weather, K-STAR Electric Mechanical Heaters can do it for you.
Temperature control

Operating Indicator Light

High limit manual control reset

Copper grounding lugs

Stainless steel incoloy-sheathed elements for longer life

PVC impact-resistant tank

Winterizing drain plug
Also available in Titanium for salt water applications.
Cost to run electric heater
Formula: Power x Price per KW x Hours used.
Example of running a 5 KW heater for 4 hours:
5 KW x $0.07/KWH x 4 hours = $1.40
| Above ground | Gallons | Liters | Recommended Heater |
| --- | --- | --- | --- |
| 15' | 5 200 | 19 684 | 5 KW |
| 18' | 7 600 | 28 769 | 10 KW |
| 21' | 10 400 | 39 368 | 10 KW |
| 24' | 13 500 | 51 102 | 15 KW |
| 27' | 17 200 | 65 108 | 15 KW |
| 14' x 24' | 7 700 | 29 147 | 10 KW |
| 15' x 25' | 8 000 | 30 281 | 10 KW |
| 15' x 30' | 12 000 | 45 424 | 15 KW |
| Inground | Gallons | Liters | Recommended Heater |
| --- | --- | --- | --- |
| 14' x 28' | 16 200 | 61 323 | 15 KW |
| 16' x 32' | 21 100 | 79 871 | 21 KW |
| 18' x 36' | 26 700 | 101 070 | 24 KW |
| 20' x 40' | 33 000 | 124 918 | 30 KW |