Rainbow Rays® Multicoloured LED
LOW VOLTAGE POOL LIGHT SYSTEM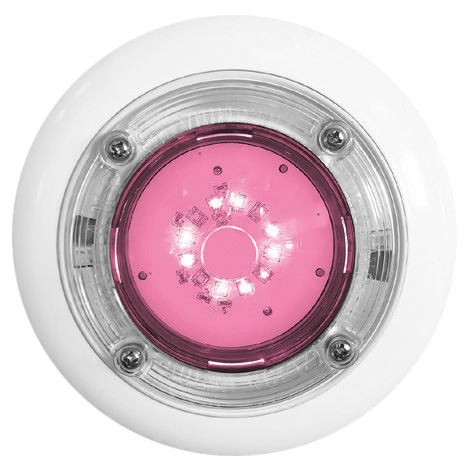 LED DIGITAL LIGHT TECHNOLOGY
AQUA/LAMP® Rainbow Rays® Lights will Colour your night in a rainbow of colours. LED technology offers independent activation to each of the diodes in the lamp which multiplies the colour opportunities available in your pool. Engineered from the latest in digital technology, the light emitting diodes (LEDs) give an array of colours that can be specifically selected, slowly transitioned, or viewed in a strobe-like flash display. It's as simple as flipping the switch to vary the options and set the proper mood. LED bulbs use only 14 watts of energy and have no moving parts to break down.

AQUA/LAMP® RAINBOW RAYS® MULTI-COLOURED LED BULB (AL14-RR) FEATURES:
Digital LED
150° Beam Spread for Great Coverage
Spectacular Vibrant Colors
14 Watts
Energy Efficient LED
Long Life

AQUA/LAMP® RAINBOW RAYS® MULTI-COLOURED LED BULBS (AL14-RR) are pre-programmed with an assortment of lighting effects.

RAINBOW RAYS® COLOUR SELECTION - AT THE FLIP OF THE SWITCH!
Description of Effects (8)
| | |
| --- | --- |
| RAINBOW COLOUR SELECT | - (1) White (2) Blue (3) Green (4) Pink (5) Turquoise |
| RAINBOW TRANSITION | - (6) ALL 5 colours transition slowly |
| RAINBOW BLUE/GREEN | - (7) Blue and Green transition slowly |
| RAINBOW FLASH Strobe effect | - (8) ALL colours flash quickly |
LED LIGHT SYSTEMS FOR NEW POOLS
Make your new pool the star attraction and mood setter for your backyard and light up your night with a AQUA/LAMP® Rainbow Rays® LED Light System. A two-light system will create subtle full coverage in most pools. For small pools, a one-light system at the end will create a graduated colour sensation. Either system will increase night swimming safety while enhancing the beauty of your pool.


QUALITY LOW VOLTAGE LIGHT SYSTEM – FOR ADDED SAFETY
AQUA/LAMP® Rainbow Rays® LED Light Systems have been engineered with pool safety in mind. Our low voltage lights meet Canadian and U.S. electrical standards and are powered by a low 12 volt system with a GFCI ground fault circuit interrupter. No additional grounding is required.


INDUSTRIAL STRENGTH REMOTE CONTROL – A CONVENIENCE OPTION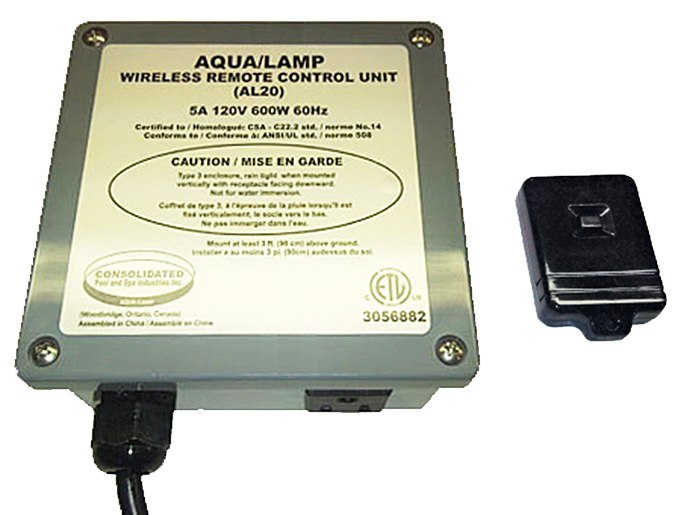 Adding an AQUA/LAMP® Remote Control System to your lights lets you control your pool lighting from the comfort of your favorite lounge or even from inside the house. With a simple click of the remote controller you can turn the pool lights on or off and change their colours. On the Rainbow Rays® LED Light System, every on/off sequence changes the color mode (see chart above). The AQUA/LAMP® Remote will also work with existing AQUA/LAMP® Pool Lights or other pool or garden lights. Extra remote controllers are available upon request.
Click HERE for more product info.



COLORING EXISTING POOLS IS EASY
Re-Energize your pool setting with a simple upgrade to an AQUA/LAMP® Rainbow Rays® LED bulb! If your pool already has the regular AQUA/LAMP® 12- volt system, then adding colour is as simple as changing the bulb. Colour change is activated simply by turning the same on/off light switch you already have unless you want to add the convenience of a remote control switch.


*AQUA/LAMP® RAINBOW RAYS® MULTI-COLOURED LED BULBS CAN BE USED AS RETROFIT REPLACEMENT BULB FOR ANY EXISTING AQUA/LAMP® LIGHT SYSTEM!
All of our AQUA/LAMP® Light Systems can be used for installation on Vinyl, Fibreglass or Concrete pools.
IMPORTANT: For installation on CONCRETE or FIBERGLASS pools, light systems for CONCRETE pools will need the White Gasket (AL9C) and light systems for FIBERGLASS pools will need the White Gasket (AL9C) plus different length screws (ALFGSET), to ensure proper installation for those applications.